Innokin Coolfire Z60 kit review

The Chinese manufacturer Innokin has made versatile vaping its trademark.
With the Coolfire Z60 kit, vapers can experience a collection of the latest innovations.
The famous Coolfire box, with an even more sophisticated design, and the new Zlide top tank suitable for MTL or RDL vaping.
Innokin has combined its latest Z Coil Duo Prime with its Coolfire mod for maximum performance.
Sweetch sells this Innokin Coolfire Z60 kit in Black, Silver, and Purple.
LET'S TALK ABOUT THIS KIT
Innokin has made no compromises in offering a kit that covers all the latest innovations of the brand. While the Chinese manufacturer is renowned for its cutting-edge technology and high quality, this kit once again stands out for its flawless reliability.
The key word : versatility to satisfy beginners looking for an easy-to-use e-cig, as well as experienced vapers who want a high-performance tool with precise settings. 
Its design is compact and elegant, with perfect ergonomics and ideal dimensions for an all-day vape.
The box has an integrated 2500 mAh battery for a maximum power of 60W, which is comparable to a classic 18650 battery, guaranteeing long vaping hours. The battery can be easily recharged via the included USB-C cable.
The pre-installed 3ml straight tube Zlide top clearomizer can be replaced by the 4.5ml bulb tube provided, for greater vape autonomy.  
It also features the new Top Airflow anti-leak system for optimal control and adjustment of the airflow, allowing you to choose between MTL and RDL vaping.
Compatible with all Innokin Z coils, check out the brand-new Duo Prime in 0.6ohm designed for an even tastier MTL vape between 9 and 13W.  
The Innokin chipset features various modes such as Coil+ which optimises the coil's life span or Refresh for optimum flavour restitution. These two modes provide optimal immersion of the placed coil.
Everything can be adjusted from an intuitive and easy-to-use screen, where the power is indicated in large letters. The little Innokin plus, an on/off button for safe travel.
Innokin's Coolfire Z60 kit has many assets and is an excellent way to discover new vaping sensations.
We've asked Steve, Sweetch's shop manager in Nyon, to test this kit. Among Sweetch's extensive selection of e-liquids, Steve decided to pair Innokin's Z60 kit with BlackNote's American Blend e-liquid for the natural sweetness of Virginia tobacco, combined with Burley and Oriental tobaccos, a must-have for tobacco flavour amateurs.
He shared her comments and remarks with us : 

What was your first impression when you saw this kit ?
I found it very sleek and classy with its matte colour combo. It really gives you the feeling of having a good quality device.

How was it getting started ?
Really straightforward ! Just turn the switch on the bottom of the box to ON, 3 clicks on the fire button and go ! 
The autonomy of this kit is more than enough for a day of vaping.
What is your experience with this kit ?
Innokin has kept on this model the special design system to place correctly and easily the coil. 
The airflow, compared to its Z50 predecessor, has a full opening (not just small holes), ideal for both RDL and MTL vaping. It's located on the top of the tank, which is a big plus, especially for people who are regularly confronted with altitude variations, since this configuration limits the risk of leaks. The e-liquid will not drip down onto the box.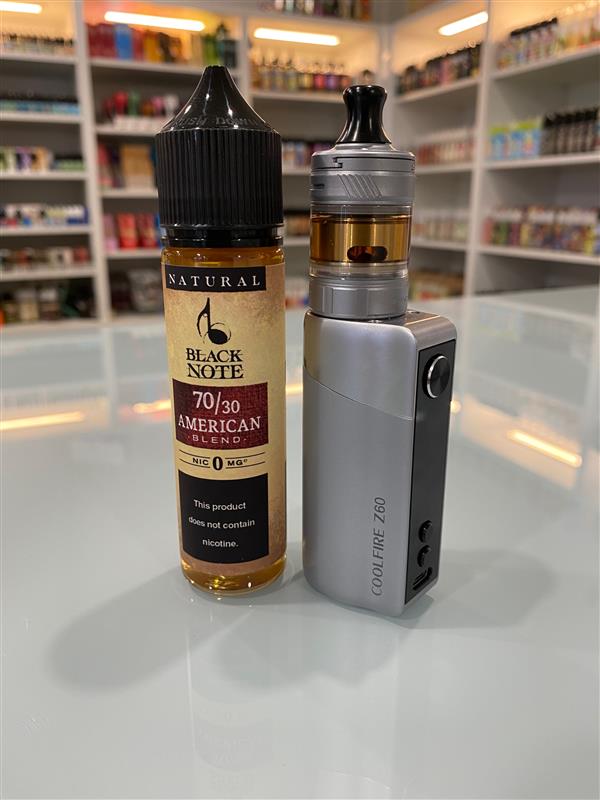 Have you encountered any difficulties ? 
Not using it ! The system is very responsive ! 
The power is clearly indicated, and the settings are very easy.
The filling hole in the tank is accessible after sliding the top part, which is very easy, maybe a little too easy, as there is nothing to block it. The valve, however, prevents the liquid from flowing out accidentally.
I notice that the pre-installed 0.6ohm coil, offering a power between 9w and 13w, is relatively aerial for such a low power. Some people will definitely find it to their liking, but if, like me, you are looking for a tighter draw and/or more power, you'll quickly switch to another coil from the Z-Coil range. 
Who would you recommend this kit to ?
To anyone who wants to quit smoking and wants to be able to customise their vaping, thanks to the multitude of coils in the Z-Coil range. And especially to people who are regularly faced with altitude changes, such as bikers, hikers, people living in the mountains... 
Manufacturer : Innokin
Origin : China
Size : 13.6 x 3.8 x 2.7cm
Material : Zinc
Tank : 3 to 4.5ml
Integrated battery : 2500mAh
Filling : Topfill
Power : from 6 to 60W
1x Coolfire Z60 box                                         
1x Zlide Top Clearomizer 
1x 0.6 ohm Z Coil Duo Prime 
1x 0.3 ohm Z Coil 
1x spare Pyrex tank 
1x USB-C cable 
1x Instruction manual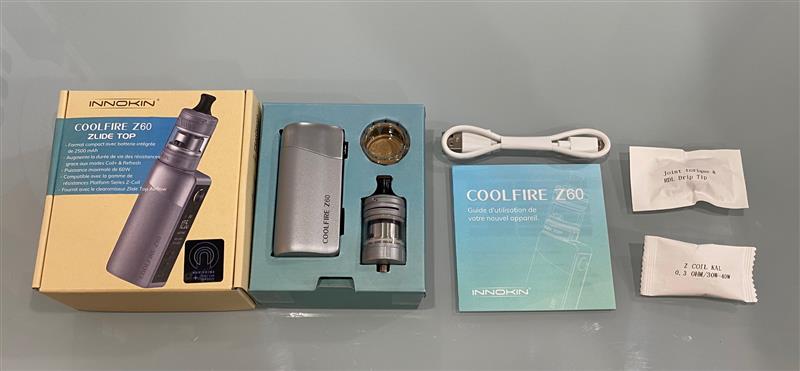 Very easy to use
Good quality
Very reasonable battery life
Easy to fill
Easy to change the coil
On/off button
Quality airflow
Very aerial vaping
Temperamental filling valve
Innokin's Coolfire kit proves once again that Innokin is always at the forefront of innovation. Always attentive, the Chinese manufacturer has been able to satisfy over the years the demands of vapers and adjust its products to meet the new modes of vaping. 
This Coolfire Z60 kit from Innokin is a great choice for powerful vaping, yet open to all. 

Thank you for reading.

The Sweetch team