Review of the Innokin + VDLV Sweetch Kit

When Sweetch teams up with one of the leading electronic cigarette brands and e-liquid manufacturers, the result is the Klypse Sweetch kit.
A match made in heaven between Innokin's Klypse pod and a 20mg nicotine salt e-liquid from VDLV to get you started with vaping or to experience new sensations and new flavours.
Innokin's Klypse kit does its job brilliantly.  
It's discreet, easy to use, compact, intuitive, and efficient.
LET'S TALK ABOUT THIS KIT
The Klypse Sweetch kit includes Innokin's Klypse pod kit and a VDLV nicotine salt e-liquid.
INNOKIN KLYPSE POD KIT + KLYPSE CARTRIDGE + KLYPSE CAP 
This little pod has everything you could want, and it delivers.
Elegant with its aluminium casing, the Innokin Klypse pod is lightweight, compact, and easy to carry around. 
With its small size and sleek design, it's very discreet and easy to use. 
There are no settings, no buttons, just inhale to start vaping.
The pod features a 700mAh battery that recharges in less than an hour via the supplied USB-C cable.  
The automatic draw is in MTL for a nice vapour production and a powerful flavour rendering thanks to the 0.8ohm Mesh coil included in the disposable and recyclable cartridge. 
With a capacity of 2ml and a side fill, it will provide you with an easy access to vaping. 
Its magnetic cap protects the drip tip from dirt and the liquid from light, it clips onto its base when vaping. You can take it everywhere, safely.   
With Innokin's Klypse kit, experience easy vaping. 
Its discretion and ease of use is designed for first-time vapers who wish to quit smoking and switch to electronic cigarettes, but experienced vapers will be seduced by its versatility and high performance.
3 Sweetch Klypse available, with 3 different liquids : 
Peach, with a choice of Classic Fr, Polar Mint or Apple 
Mint, with a choice of Classic Fr, Polar Mint or Apple 
Indigo, with a choice of Classic Fr, Polar Mint or Apple
VDLV NICOTINE SALTS  
With Innokin's Klypse Sweetch kit, the only difficulty lies in selecting the pod colour and nicotine salt flavour that will work for you.
Classic Fr, Polar Mint or Apple, the choice is yours.
We've asked Sarah, a loyal Sweetch customer to test this kit and give us her feedback after 10 days. 
She opted for the Peach colour model and associated it with the Classic FR 10ml e-liquid with 20mg nicotine salts from VDLV, available as part of the Sweetch Kit, a sure bet for tobacco taste enthusiasts.
She shared her comments and remarks with us. 

What was your first impression when you saw this kit ?
I was blown away by the all-purpose nature of this pod and its great discretion. In my pocket or in my bag, it looks like a beauty accessory like a perfume spray.
I don't like bulky equipment. 
The colours are great, and I'm happy with my Peach choice with its pastel gradient.
The idea of the magnetic cap is great. No hygienic concerns and no risk of losing it.
How was it getting started ?
Completely successful. It's so compact that it's invisible in the palm of your hand, and it's very pleasant in the mouth.
What is your experience with this kit ?
It's very practical and easy to use. You fill the cartridge, you "klypse" the whole thing, and you just inhale. 
I also find that the production of steam is pretty good with a nice nicotine release.
The draw doesn't cut off and the flavour reproduction is perfect.
Have you encountered any difficulties ?
No difficulties at all, but it's still a pod with a small autonomy.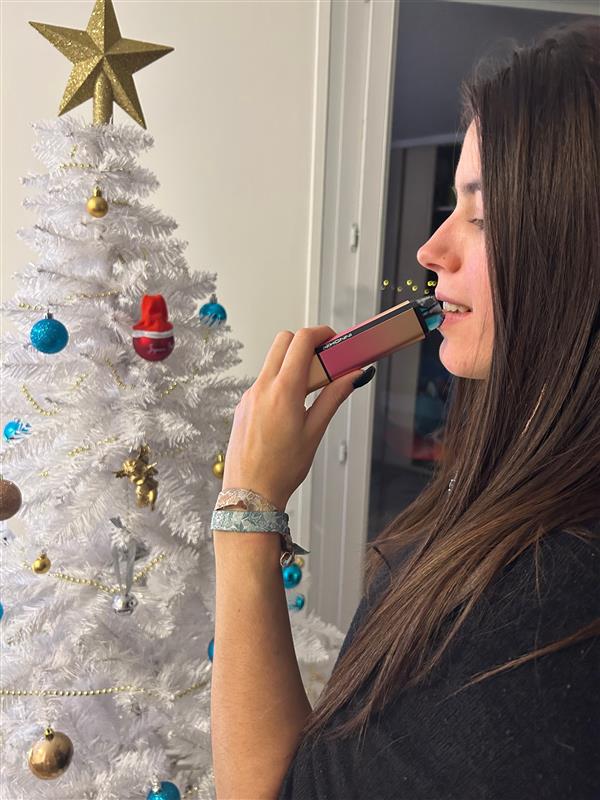 Who would you recommend this kit to ?
Actually, this kit is so versatile that I would recommend it to everyone.
First and foremost, to first-time vapers who want to switch to vaping with an easy, no-fuss kit, but with the possibility of combining liquids with a high nicotine level, or even nicotine salts, like those recommended by VDLV.
But also for experienced vapers looking for an "emergency" pod, for the office for example. 
Vapo-smokers can also use it to replace the last cigarettes they would like to quit (coffee, going out, alcohol, ...).
Manufacturer : Innokin
Origin : China
Dimensions : 94 x 29 x 15.2mm
Colours : Peach, Mint, Indigo
Tank capacity : 2ml
Cartridge : Klypse tank with 0.8ohm coil
Battery : 700 mAh/ 3,7V/ 2,59 Wh
Power : 16W
Material : Aluminium alloy
E-liquid : VDLV in 10ml 
Nicotine salts in 20mg
PG/VG 50/50
1x Klypse Pod 
1x 2ml cartridge 
1x 0.8ohm coil 
1x Magnetic cap 
1x Instruction manual 
1x 10ml E-liquid with 20mg nicotine salts from VDLV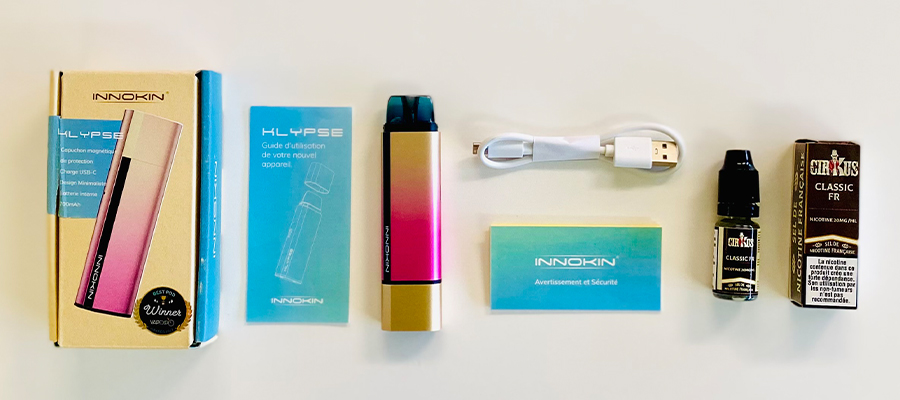 All-purpose
Discreet
Small size
Hygienic and practical cap
Nice colours
Easy to use
Good flavour reproduction
Good steam production
Reliable
If we really need to find one... The Klypse kit is still a pod, and that means small equipment, small autonomy. 
But it's a first choice, an experienced vaper might consider other products.
Innokin's Klypse kit is the ultimate pocket-sized and easy-to-use pod. 
Affordable, it can meet the needs of all vapers.
VDLV e-liquids with nicotine salts associated with it offer the possibility to mix tastes and pleasures.
This Klypse Sweetch kit will undoubtedly become an unquestionable vape device.

Thank you for reading.

The Sweetch team