Test review of Voopoo's Drag H40 kit

The Voopoo brand has experienced an extraordinary growth in recent years. Present in 70 countries, the Chinese manufacturer has built a solid international reputation.
The brand's commitment to innovation and high technology, as well as its ability to meet the wishes of the most demanding customers, make Voopoo one of the major players in the vaping industry.
Over the years, the Drag kit range has constantly evolved and been upgraded with new aesthetic and technological features.
The latest addition, the Drag H40, is no exception.
LET'S TALK ABOUT THIS KIT
The Sweetch team is delighted to share its enthusiasm for this new addition to Voopoo's Drag range.
The Voopoo Drag H40 Pod Kit has it all. Compact and tubular, it fits comfortably in your hand.
Its meticulous design, with zinc alloy coating and leather finish, 360° adjustable airflow and a range of colors from sparkly to classic, make it a fun and elegant accessory.
While Voopoo has worked on the appearance of its Drag H40 pod, technical performances have not been overlooked.
Its 1500mAh battery offers long-lasting autonomy and a maximum power of 40W. Recharging is done via a supplied USB-C cable.
It features the new version of the PnP II cartridge with an impressive 5ml capacity tank.
Compatible with all of Voopoo PnP coil, the kit comes with :
• A 0.45Ω PnP VM3 coil for a restrictive DL vape, to use between 25 and 35W, with low nicotine liquids.
• A 0.3Ω PnP TW3 coil for restrictive RDL aerial vaping.
These coils are equipped with the Dual in One technology for optimum liquid atomization efficiency.
All the information and settings required to use the pod can be found on the 0.56" OLED screen. 
The Gene TT 2.0 chipset provides a fast response and a choice of two modes :
• SmartMode, which adapts all settings automatically according to the coil used.
• RBA, which allows manual adjustment for a unique vape experience.
High-performance and versatile, this Voopoo Drag H40 kit will become a must-have for your vape breaks.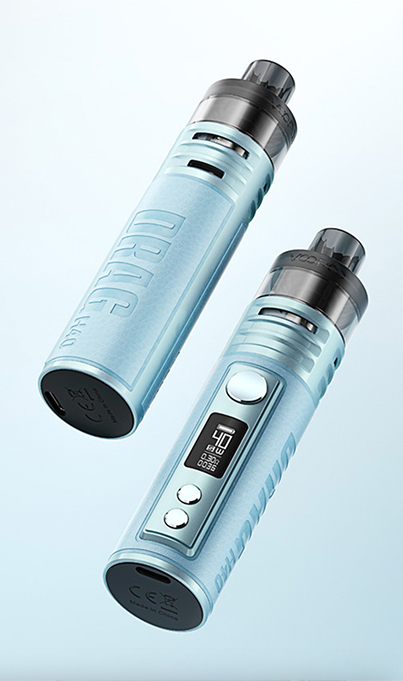 We've asked Anthony, our logistician, to test this kit. He paired it with O'Jlab's Big Kawa hazelnut e-liquid, and gave us his feedback and comments.

What was your first impression when you saw this kit ?
I immediately said to myself: "Small and cute at the same time".
Then comes the quality feel, and the design is elegant and totally unisex, with the range of available colours.

How was it getting started ?
Really great. The small tubular format is really practical. The pod fits perfectly in the palm of your hand, and is easy to carry around in your pocket.
What's your experience with this kit ?
Overall very good. No leaks, and the cartridge's capacity is really great. The big novelty for me is the possibility to detach the drip tip to clean it.
Have you encountered any difficulties ? 
I have two complaints. First, I find the flavour rendering a little average at times. Second, the 360° adjustable airflow is a great idea, but it took me a while to understand how it works, as it's not very intuitive to use.
Who would you recommend this kit to ? 
Definitely for first-time vapers who want to get started with a simple, user-friendly vape kit. For experienced vapers, I would recommend it to moderate vapers because of the limited autonomy when you use it intensively with certain coils types.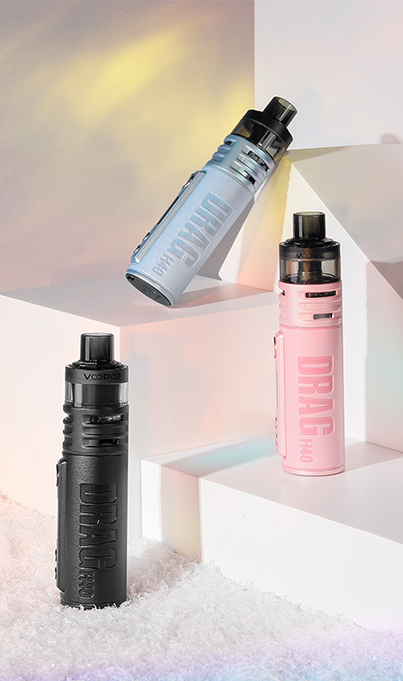 Dimensions : 104.5 X 27.5 X 26.1mm
Weight : 102.2g
Battery : 1500mAh
Max power : 40W
Cartridge : 5ml
Coils : Voopoo PnP
Adjustable airflow
Charging : USB-C cable
 1 X Drag H40 box
1 X 5ml PnP II cartridge
1 X 0.45Ω PnP VM3 coil
1 X 0.30Ω PnP TW30 coil
1 x PnP platform
1 X USB-C cable
1 X User manual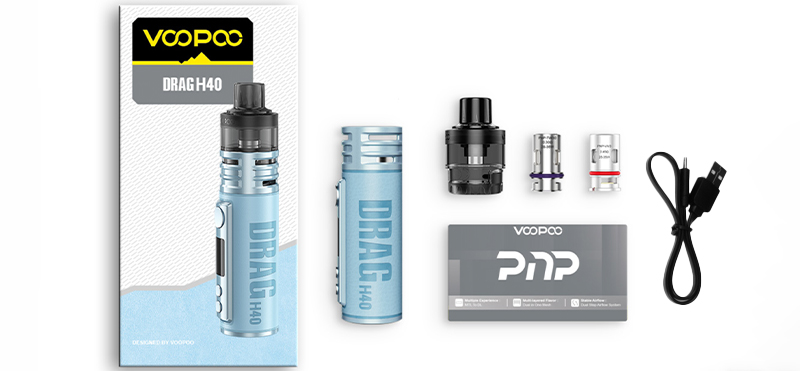 •

Compact
•

Detachable drip tip
•

Large capacity
•

Easy-to-use
•

Elegant design
•

Moderate flavours 
•

Complicated airflow
Thanks to its Smart mode, Voopoo's Drag H40 kit is destined to become the perfect ally for vape beginners but will also win over all DL vape enthusiasts looking for a large-capacity tank. 

Thank you for reading.

The Sweetch team