Voopoo's Vinci 3 Kit Review

If Voopoo is one of the best-known vaping companies in the world, it's not just due to luck.
The company has built a solid reputation for producing innovative and high-quality hardware.
The Vinci 3 kit, the latest addition to the Vinci pod series, is no exception : offering vapers a unique and high-quality vape experience.
LET'S TALK ABOUT THIS KIT
New to vaping or looking to experiment with more e-liquids ? Voopoo meets your needs with the Vinci 3 kit.
In line with its predecessors, the Vinci 3 preserves the characteristics that made the success of the range, with a few innovations :
An integrated 1800mAh battery
A power ranging from 5 to 50W
A revolutionary airflow system controlled by a thumbwheel.
With an attractive design, it's now more compact and ergonomic, to be even more discreet, light and easy to handle. 
Its zinc alloy shell with carbon fibre or colour gradient finish is very contemporary.
The Vinci 3 kit is equipped with an innovative Mobius Airflow knob.
This technology allows for a precise airflow adjustment, with exceptional range so you can enjoy a personalized vape experience, whether you like to vape in MTL, RDL or DL, you'll find the right balance of flavour and vapour production for your needs.
This pod has a built-in 1800mAh battery that allows you to vape for up to 2 days in MTL, and 1 day in RDL. It's easily recharged via the included USB-C cable.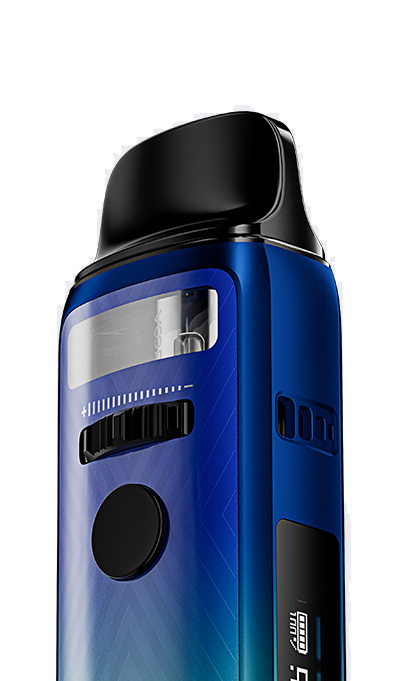 The Vinci 3 pod has a power selection from 5 to 50W according to your preferences :
From 5 to 25W for MTL vaping, close to a classic cigarette.
From 26 to 40W for RDL vaping 
From 41 to 50W for DL vaping and high vapour production.
The Vinci 3 pod is equipped with the Gene Ai Chipset which is controlled via the fire button and displays all necessary information on a 69" Oled screen, and guarantees safety against short circuits, overheating or excessive discharge/overload.
5 clicks to switch on. 
3 more clicks to change the power with automatic detection of the installed coil.
5 more clicks after switching it on to access the menu options with :
A lock mode for safe travel, but still allows you to vape in autodraw.
A puff clear mode to reset the puff counter.
A smart mode for easy use without having to select the power.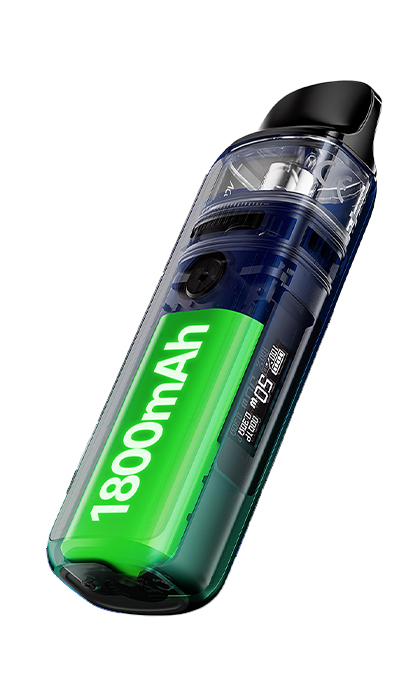 The Vinci 3's clear cartridge allows you to always check the remaining liquid level and can hold 4ml of e-liquid.
It's easy to fill thanks to its topfill system.
This cartridge supports the brand's pnp coils. The kit comes with 2 coils to use according to your vape desires.
1 x 0.3Ω TW mesh coil for RDL vaping, to use between 28 and 35W with PG/VG ratios of 50/50 to 30/70.
1 x 0.6Ω DW mesh coil for MTL vaping to use between 13 and 28W with PG/VG ratios of 40/60 to 60/40.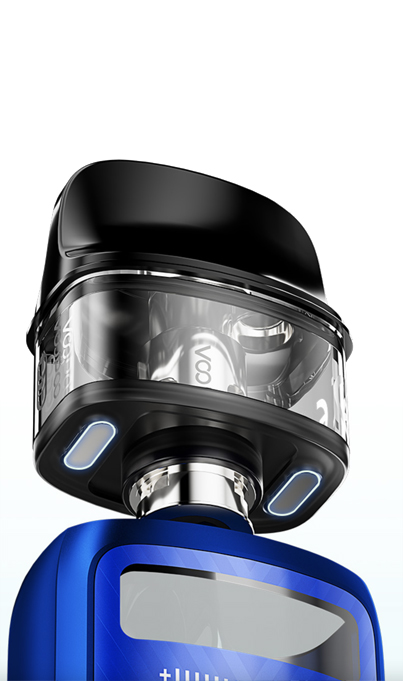 We've asked Cedrick, logistics manager at Sweetch, to test this kit.
He paired it with E-Tasty's Kenton e-liquid from the One Taste collection, a smooth and round Classic Blond.
He shared her comments and remarks with us :
What was your first impression when you saw this kit ?
At first glance, the Vinci 3 looks reliable. It has a solid feel that inspires robustness.
How was it getting started ?
It was easy, quick, and intuitive for me to get started. 
What is your experience with this kit ?
The experience that I got from this pod is that it represents the saying "do not trust appearances" ! 
Indeed this small but powerful pod combines all the essential characteristics of a good vape : its autonomy, its ease of use, its adjustable airflow with a wheel system that provides a detailed personalisation !
The design is very user-friendly, but also very comfortable when vaping ! Its mouthpiece adapts perfectly and is neither too thick nor too thin to allow a fairly important flow of air. The little plus is without doubt its screen, not all pods are equipped with one and I must admit that it makes a difference ! This is a change from the red, orange, green LEDs to indicate the battery charge... Here, the screen offers us all the necessary information for a better use !  
It goes without saying that having such a high-performance rendering at an affordable price can certainly charm a vaper's heart.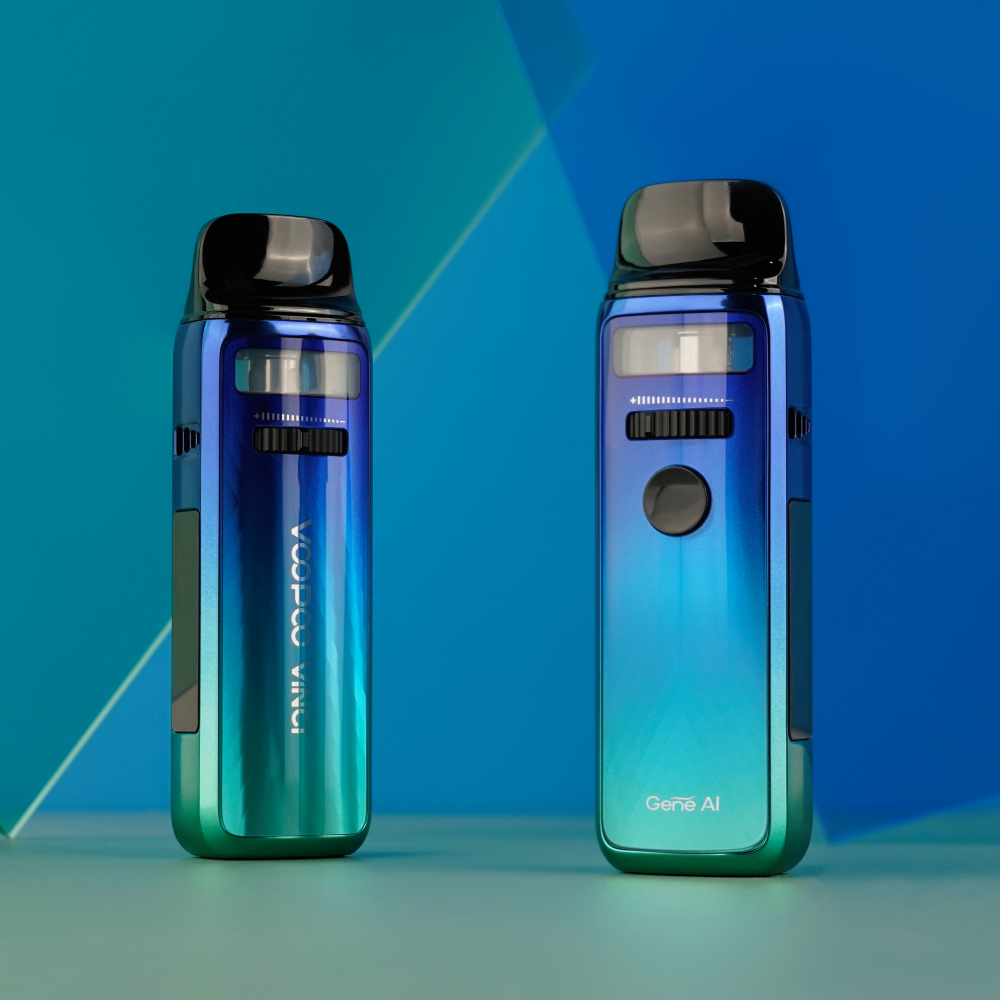 Have you encountered any difficulties ?
The only difficulty I encountered was when filling the cartridge because it's very firmly clipped in, and you must force it a bit.
Who would you recommend this kit to ?
I would recommend the Vinci 3 kit to relatively inexperienced vapers, looking to experience powerful aerial vaping easily, without the hassle, and with the possibility of going back to a more traditional tight vape.
Manufacturer : Voopoo
Origin : China
Battery : 1800mAh built-in battery
Power : 50W
Cartridge capacity : 4ml
Airflow system : Mobius
Oled screen : 0,69"
1 x Vinci 3 Pod
1 x 4ml Vinci 3 cartridge
1 x 0.3Ω Vinci Pnp TW coil
1 x 0.6Ω Vinci Pnp DW coil
1 x USB-C cable 
1 x User manual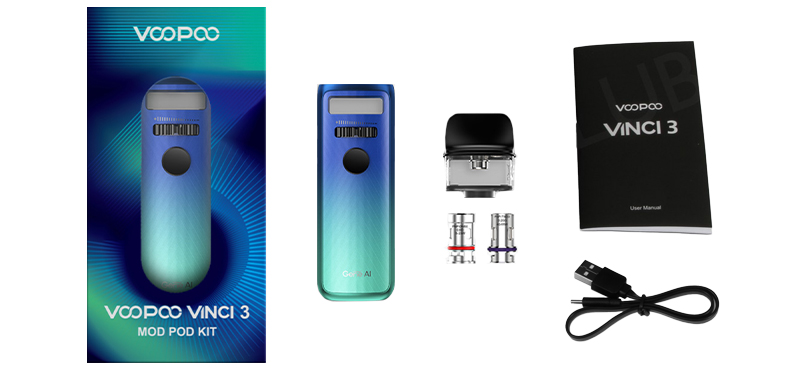 Its finishes
Its precise air flow ring 
Its performance 
Its very good rendering of flavours 
Its liquid level display
Unable to vape while charging 
Automatic activation could be improved
Flavour fans and big cloud chasers will be seduced by Voopoo's Vinci 3 kit. Its design and its performance will please the most demanding vapers.
So why not giving it a try ?
Thank you for reading.

The Sweetch team